Leaf Springs

Function: The leaf spring is made up of multiple leaves of heat treated spring steel to support the vehicle weight, absorb bumps and locate the axle to the vehicle. Two basic types of leaf springs are used.
Full taper: These use 2-4 leaves of varying thickness spring steel. Each leaf is approximately the same length.
Multileaf: This type of spring uses up to 1 0 or more leaves of generally constant thickness, which gets progressively shorter toward the bottom of the spring.
Features and Benefits: We offer a complete line of leaf springs for virtually any light truck on the road. Each spring is manufactured using quality spring steel that is carefully processed to provide maximum life. Our combination of carefully controlled heat treating, along with shot peening or stress peening means that our spring will handle the load.
When to Replace: As leaf springs age they tend to loose strength and cause the vehicle to sag. Eventually leaves will begin to crack and fail as their useful life ends. Inspect the vehicle for proper ride height or for badly corroded or cracked leaves. If a spring or leaf is found to have failed, replace both spring assemblies in pairs.
Spring Eye and Shackle Bushings

Function: These bushings serve as flexible connection points between the springs, shackle and frame. Made of rubber or metal bonded to rubber, they also absorb vibration and shock to improve ride quality.
Features and Benefits: A complete selection of spring eye and shackle bushings are available. These bushings are manufactured to rigid quality standards to provide exceptional durability.
When to Replace: New spring eye bushings are provided with most leaf springs when they are replaced. Inspect for damaged or badly worn bushings and replace as required.
Spring Eye Bolts
Function: These are the hardware that actually attaches the spring and shackle to the frame.
Features and Benefits: All NSI spring eye bolts meet grade 8 strength requirements and come complete with washers and lock-nuts.
When to Replace: These bolts should not be reused; replace them whenever suspension work is done.
Shackles

Function: The spring shackle allows the spring to move freely up and down as the load on the spring changes.
Features and Benefits: We offer a complete line of both side bar and stamped type of shackles for the most common applications. Where required, shackle bushings are included.
When to Replace: Inspect for cracking, severe corrosion or damaged bushings. In many cases, shackle bushings are not replaceable; install a new shackle.
U-Bolts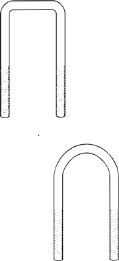 How To
Open U-Bolt Legs
Function:
U-bolts serve the critical role of clamping the leaf spring to the axle.
Features and Benefits: To ensure a proper clamping between the axle and leaf spring; NSI U-bolt kits offer these advantages:
Grade 5 strength on 3/8", 7/16", 1/2", 9/16", 5/8", 3/4", and 7/8" diameters. Heavier applications using 1", 1-1/8", and 1-1/4" diameters are exclusively grade 8 for maximum strength.
Properly formed shape to closely mate with attaching parts.
Precision rolled fine threads with extra thread to simplify installation.
Hardened U-bolt washers and deep nuts to maintain a solid spring mounting.
When to Replace: Never reuse U-bolts. Each time spring work is done a new U-bolt kit should be installed. Reusing old U-bolts that have stretched and have damaged threads can lead to premature spring failure.
Helper Springs and Brackets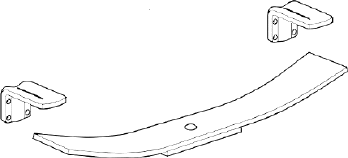 Function: Many 3/4 and 1 ton trucks use helper springs and brackets to help handle the heaviest loads. As the vehicle is loaded the helper spring contacts the brackets to help support the extra weight.
Features and Benefits: The combination of carefully manufactured helper springs and strong stamped or cast iron brackets mean added assurance that the heavy loads can be handled safely.
When to Replace: Install new helper springs when the main spring is replaced. Inspect helper brackets for excessive wear at the spring contact points or for signs of cracking. We also offer a complete line of helper kits for virtually any vehicle.